Solarshield™
Textured aluminium sheet combined with a self-adhesive rubber/bitumen compound suitable for exposed flashings and flat deck roof membranes
Product Description
Solarshield™ is a robust, cold-applied, self-adhesive, heavily textured aluminium membrane which can be used as a conformable solar reflective flashing or protection for exposed roofing membranes.
Applications
Solarshield comprises a thick aluminium sheet which is heavily embossed to accommodate both transverse and longitudinal movement. A thick, self-adhesive rubber/bitumen compound is laminated to the underside to provide adhesion to primed substrates and all membranes from GCP Applied Technologies.
It is supplied to sites in rolls 1m wide x 10m long, 1.5mm thick overall and is normally unrolled and cut to size before applying sticky side down on to primed concrete or membrane surfaces to which it bonds firmly.
Continuity is achieved by overlapping 75mm on sides and ends and well rolling the joint to promote bonding.
When Solarshield is used as a flashing, it should be pre-measured to size before applying to ensure that it is terminated into a primed chase or securely fastened by a cover strip to prevent moisture by-passing the waterproofing.
A hot climate grade (HC) is available to suit higher ambient temperatures.
Product Advantages
Aluminum sheet — provides attractive, solar reflective surface
High purity aluminium — provides effective external protection against aggressive environments and ozone attack
No naked flame system — no flame hazard
Self-adhesive rubberised asphalt

Continuity ensured at overlaps
Unique thick rubber/bitumen formulation allows healing of small puncture
Provides excellent adhesion to substrate layer

Heavily embossed surface — allows membrane to accommodate transverse and longitudinal movement without rupturing
Compatibility — suitable for use with all self-adhesive membrane systems from GCP Applied Technologies
Easily worked

Highly conformable, can be cut and bent to shape on site
Simple, reliable, low labour cost with the benefit of site-programmed installation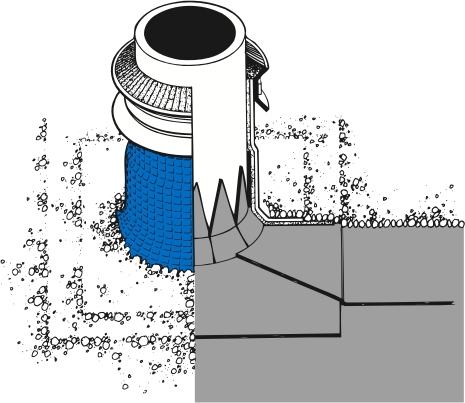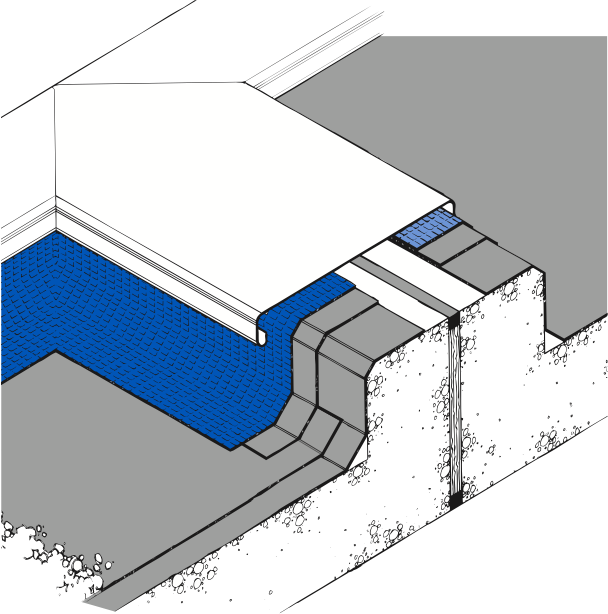 Supply 
| | |
| --- | --- |
| Pack Size | 1m x 10m roll |
| Gross Weight | 22kg |
| Storage | Dry conditions below +30ºC |
Installation
The installation of the Solarshield should not be carried out at temperatures below -5°C. At air temperatures below 4°C measures should be taken to ensure that all surfaces are free from ice, frost or condensation.
The underlying roof waterproofing membrane must be clean and surface dry before applying the self-adhesive Solarshield. When used as a flashing, pre-measure the extent of the Solarshield to accurately follow the roof profile to the termination chase, or mark out the free board height if metal counter flashings are used to securely fasten the leading edges.
Pre-bending or shaping the Solarshield to the correct profile before removing the silicone paper will assist with the application.
Solarshield should be laid by peeling back the protective silicone release paper and carefully offering the adhesive face into position on the prepared surface. Cut and trim carefully around internal and external corners to form an effective protection flashing to the waterproofing membrane beneath. The material should be brushed on to the surface to ensure good initial bond. Adjacent widths should be aligned and overlapped 75mm minimum at side and ends, and well rolled with a firm pressure using a Bituthene Lap Roller to ensure complete adhesion and continuity between the layers. Laps should be staggered between layers to prevent a build-up of layers.
In cold weather conditions the application of warmth will aid adhesion.
Health and Safety
Refer to relevant Material Health and Safety data sheets.
Specification
Solarshield, preformed, self-adhesive, aluminium solar reflective flashing membrane shall be laid and terminated as shown on the working drawings with well rolled 75mm overlaps, laid strictly in accordance with the manufacturer's instructions and supplied by GCP Applied Technologies. For further information, contact your local GCP representative.
Technical Services
For assistance with working drawings for projects and additional technical advice, please contact GCP Applied Technologies.
th.gcpat.com | Thailand customer service: 66 2 030 9700
We hope the information here will be helpful. It is based on data and knowledge considered to be true and accurate, and is offered for consideration, investigation and verification by the user, but we do not warrant the results to be obtained. Please read all statements, recommendations, and suggestions in conjunction with our conditions of sale, which apply to all goods supplied by us. No statement, recommendation, or suggestion is intended for any use that would infringe any patent, copyright, or other third party right.
Solarshield is a trademark, which may be registered in the United States and/or other countries, of GCP Applied Technologies, Inc. This trademark list has been compiled using available published information as of the publication date and may not accurately reflect current trademark ownership or status.
© Copyright 2017 GCP Applied Technologies, Inc. All rights reserved.

GCP Applied Technologies Inc., 2325 Lakeview Parkway, Alpharetta, GA 30009, USA
GCP Applied Technologies Holdings (Thailand) Limited., 848 Moo 2, Bangpoo Industrial Estate (North), Phraksa Mai, Muang Samutprakarn, Samutprakarn 10280, Thailand
This document is only current as of the last updated date stated below and is valid only for use in Thailand. It is important that you always refer to the currently available information at the URL below to provide the most current product information at the time of use. Additional literature such as Contractor Manuals, Technical Bulletins, Detail Drawings and detailing recommendations and other relevant documents are also available on www.th.gcpat.com. Information found on other websites must not be relied upon, as they may not be up-to-date or applicable to the conditions in your location and we do not accept any responsibility for their content. If there are any conflicts or if you need more information, please contact GCP Customer Service.
Last Updated: 2022-01-28
https://th.gcpat.com/en-gb/solutions/products/bituthene-post-applied-waterproofing/solarshield