Serviseal®
External PVC waterstop system for passive protection of expansion, construction and contraction joints in reinforced concrete structures
Product Description
Serviseal® is a passive external PVC waterstop system manufactured in a range of sizes for protecting joints in concrete basements and sub-structures.
Serviseal external flexible waterstop systems have a proven design using four T-shaped ribs for solid embedment in insitu concrete which create a valve action to seal the water path, and are suitable for horizontal and vertical applications. Being cast into the outside water face prevents the ingress of moisture and protects the outer layer of reinforcement from corrosion. Location on the outside face of a concrete member also promotes better compaction of the concrete around the ribs of the Serviseal since it is free from reinforcement congestion and the weight of wet concrete makes consolidation easier.
Serviseal can be used for non-suspended slabs in water-retaining structures such as reservoirs, swimming pools and sewage treatment tanks. A continuous waterstop network should be used at all joints to prevent the ingress of moisture using only factory-produced fabrications for changes of direction or profile with site jointing limited to simple butt welds.
Product Advantages
Proven design — the original external waterstop used extensively in water-excluding and water-retaining structures.
Flexible — will accommodate movement during construction and service life.
External seal — protects reinforcement from water ingress.
Pliable — remains flexible at low temperatures.
Four ribs — provide extended and tortuous water path.
Stabilising/Nailing flange — allows fastening without damaging waterstop and prevents displacement or folding of ribs during concreting.
Fabrication service — factory fabricated layouts for complex or circular structures are recommended for quality assured installation
UK WBS listed — for potable water structures.
Limitations
Serviseal is not suitable for walls of water-retaining structures which should always have PVC Edgetie™, Servitite® AT or Servitite
Serviseal is not suitable for walls of water-retaining structures which should always have PVC Edgetie™, Servitite® AT or Servitite Waterstops cast centrally in the concrete wall to resist the internal water pressure.
Supply
Construction/Expansion/Movement Joints
Serviseal 195
10m coil   wt 19.7kg
Serviseal 240
7.5m coil  wt 21.5kg
Serviseal K320
7.5m coil  wt 23.8kg
Pilecap and Angled Joints
 
Serviseal Pilecap
7.5m coil  wt 24.0kg
Equipment
 
Jointing Jigs
Welding Knives
Jig Serviseal Muti 320
Electric Knife Large 635 x 40m, 110v or 220v
Range of Sections - all dimensions nominal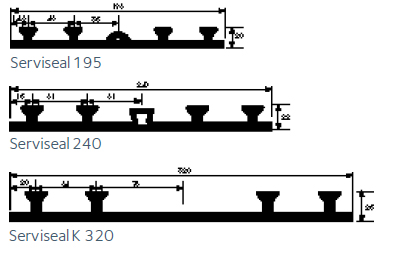 Installation
The waterstop network should be loose laid direct on to the blinding concrete with timber stop-ends or securely fixed into the vertical shutters using Double Headed Fasteners staggered at 500mm cross centres. A fully continuous waterstop network must be formed using only factory made junctions with site joints limited to simple butt welds of similar section.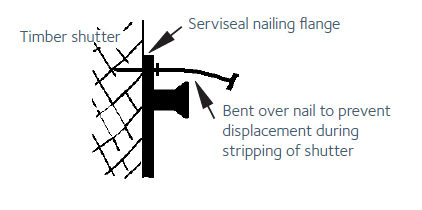 Equipment by Others
Fine tooth saw, wire brush, Stanley knife, 110v or 220v power source, blow lamp or gas torch if non-electrical mild steel knife is used.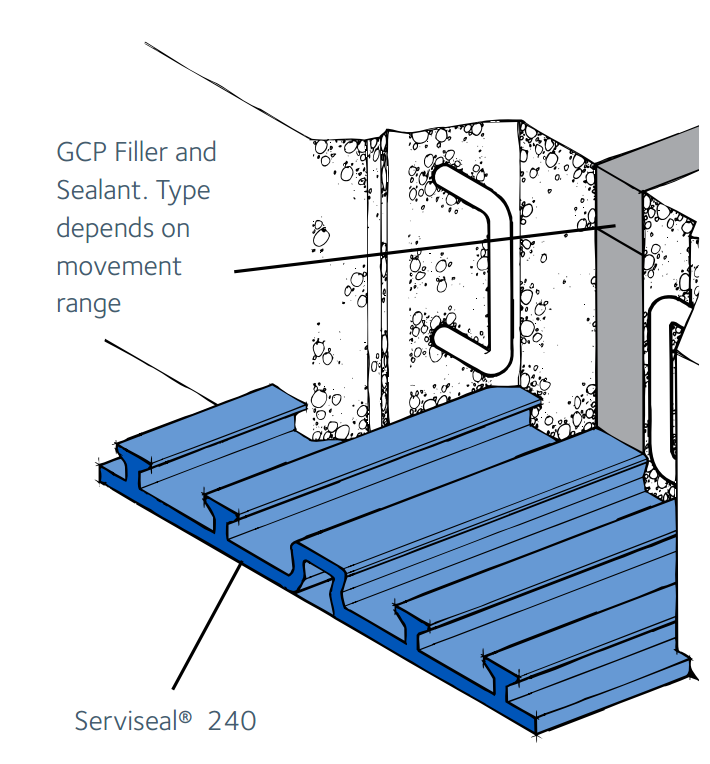 Performance
Tensile strength: 15 N/mm2
Elongation at break: 310%
BS Softness: 42
Specific Gravity: 1.42
Compound tested in accordance with BS 2571 and are typical values. UK WBS listed.
Specification Clause
Serviseal (...) size waterstops shall be used to form a continuous network as shown on the detailed drawings and fixed in position with site jointing limited to butt joints, strictly in accordance with the manufacturer's instructions.
Health And Safety
Refer to relevant Material Safety data sheet.
Technical Services
For assistance with working drawings for projects and additional technical advice, please contact GCP Applied Technologies.
Section through Serviseal Pilecap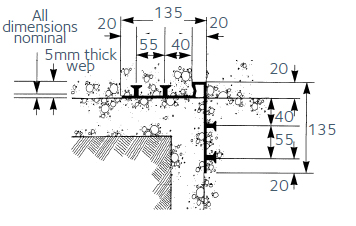 Serviseal Pilecap can be used around pilecaps or column bases or in joints at internal angles of retaining walls and linked with other Serviseal waterstops.
th.gcpat.com | Thailand customer service: 66 2 030 9700
We hope the information here will be helpful. It is based on data and knowledge considered to be true and accurate, and is offered for consideration, investigation and verification by the user, but we do not warrant the results to be obtained. Please read all statements, recommendations, and suggestions in conjunction with our conditions of sale, which apply to all goods supplied by us. No statement, recommendation, or suggestion is intended for any use that would infringe any patent, copyright, or other third party right.
Serviseal and Servitite are trademarks, which may be registered in the United States and/or other countries, of GCP Applied Technologies, Inc. This trademark list has been compiled using available published information as of the publication date and may not accurately reflect current trademark ownership or status.
© Copyright 2017 GCP Applied Technologies, Inc. All rights reserved.

GCP Applied Technologies Inc., 2325 Lakeview Parkway, Alpharetta, GA 30009, USA
GCP Applied Technologies Holdings (Thailand) Limited., 848 Moo 2, Bangpoo Industrial Estate (North), Phraksa Mai, Muang Samutprakarn, Samutprakarn 10280, Thailand
This document is only current as of the last updated date stated below and is valid only for use in Thailand. It is important that you always refer to the currently available information at the URL below to provide the most current product information at the time of use. Additional literature such as Contractor Manuals, Technical Bulletins, Detail Drawings and detailing recommendations and other relevant documents are also available on www.th.gcpat.com. Information found on other websites must not be relied upon, as they may not be up-to-date or applicable to the conditions in your location and we do not accept any responsibility for their content. If there are any conflicts or if you need more information, please contact GCP Customer Service.
Last Updated: 2022-01-28
https://th.gcpat.com/en-gb/solutions/products/waterstops/serviseal