VIDEO: Concrete Analysis Using Fluorescent Microscopy
The fluorescent microscopy technique allows GCP Applied Technologies scientists to accurately determine the water/cement ratio of hardened concrete in problem or testconcretes. This allows GCP not only to confirm if the correct recipe has been used; if not, what water-to-cement ratio is, in fact, present in the hardened concrete sample. 

By a specialised technique of impregnating the cement paste at the surface, GCP gleans an indication of the capillary porosity in the concrete. Extra water added to the concrete, for example, tends to cause raised capillary porosity. 

Once GCP fashions this thin section of concrete with the fluorescence technique and has reference materials—examples of different dose ratios—then they're able to determine to the actual water/cement ratio, from what is just a 25 micron-thick piece ofconcrete on a glass slide. 

"We're able to compare the fluorescence we get in these thin sections with the reference slides", said GCP Scientist Ted Sibbick. "Say your concrete was designed for a 0.4 or 0.5 water-cement ratio. Well we can say 'It's actually at a 0.6 or 0.62'". ​​ 

GCP compares the field concrete from that reference material. They can then determine that the mix was higher or lower than what the concrete was designed for. These are factors that can cause differences in strength from what customers were led to believe. 

GCP has performed a significant degree of research experimenting with various components at different levels to see what effects they have on the fluorescence. They've published four papers on that topic alone. 

Sibbick: "I feel that, though this isn't a new technique, we have moved the science forward".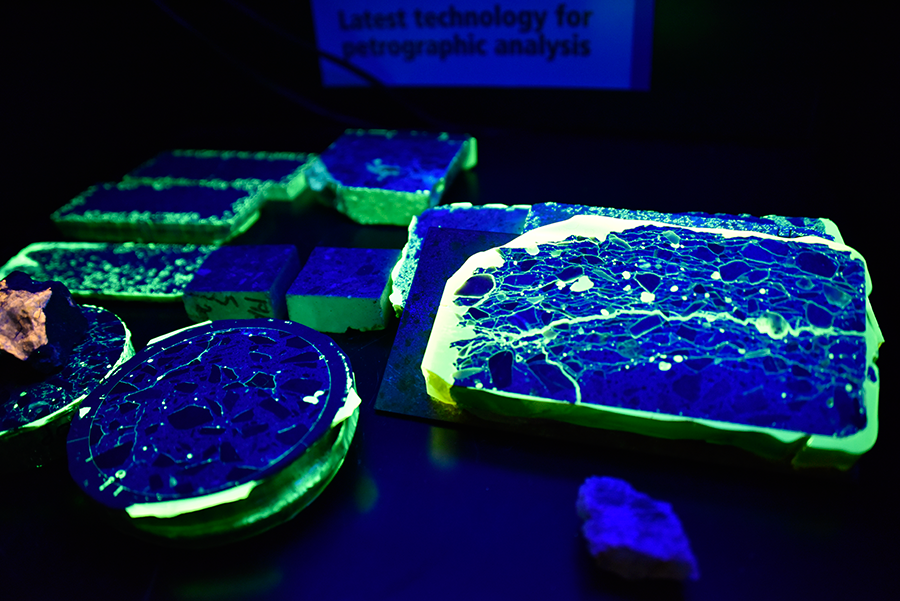 Tags
Concrete
Concrete admixtures
Precast producer
Producer