BITUTHENE® Liquid Membrane
LM and deck prep — two-component, elastomeric, liquid-applied waterproofing membrane for a variety of applications including basements and flat decks and for use in conjunction with Bituthene sheet waterproofing membranes
Product Description
BITUTHENE® Liquid Membranes are two-component, asphalt-modified urethanes and include Bituthene LM (trowel grade) for vertical applications and detailing and Bituthene Deck Prep (pourable grade) for horizontal applications.
Features
Liquid applied — conforms to irregular profiles.

Waterproof — resistant to water vapour and water pressure.

Tough rubber-like — flexible and damage-resistant.

Seamless — joint-free membrane.

Chemically cured — unaffected by in-service temperature variations.

Cold applied — no flame hazard.

Bituthene compatible — complements Bituthene sheet waterproofing membrane systems.
Applications
Bituthene Liquid Membranes may be used as stand alone waterproofing systems or in conjunction with Bituthene sheet waterproofing membranes as a detailing aid and for smoothing out rough concrete substrates. Bituthene LM and Deck Prep cure to a very tough, flexible, rubber-like waterproofing layer.
Bituthene Liquid Membranes are ideal for waterproofing both concrete and masonry and may be used in both new construction and retrofit applications. Typical applications include foundation walls, tunnels, earth sheltered structures, and split slab construction, both above and below grade, such as plaza areas and parking decks. Interior uses may include mechanical rooms, laboratories, kitchens and bathrooms.
Bituthene LM is ideally suited for use with Bituthene Sheet Membranes as a:
Fillet and reinforcement material at inside corners

Flashing material around drains, protrusions, curbs and parapets

Sealing material at terminations

Repair material for defects on concrete surfaces
Bituthene deck prep complements the Bituthene sheet membrane system in the following areas:
Levelling agent for rough concrete decks in new and retrofit construction

Non-structural repair material for defects in concrete decks for new and retrofit construction

Temporary waterproofing layer

Primer layer to Bituthene waterproofing membranes
Performance
PROPERTY
TYPICAL VALUE
TEST METHOD
Chemical
Composition
Asphalt-Modified
Urethane
 
Solids Content
100%
ASTM D-1644
Moisture Vapour
Transmission Rate
(Perms)
<2.0g / m /24
hours
ASTM E-96
Elongation
250% min.
ASTM D-412
Adhesion to Concrete
880N/m
ASTM D-903
Pliability, 180° Bend
Over 1" Mandrel @
-32°C
Unaffected
ASTM D-146
Hydrostatic Head
Resistance LM @
1.5mm
50 metres
ASTM D-5385

Hydrostatic Head

Resistance Deck Prep
@ 1.5 and 2.5mm

20 - 40 metres
ASTM D-5385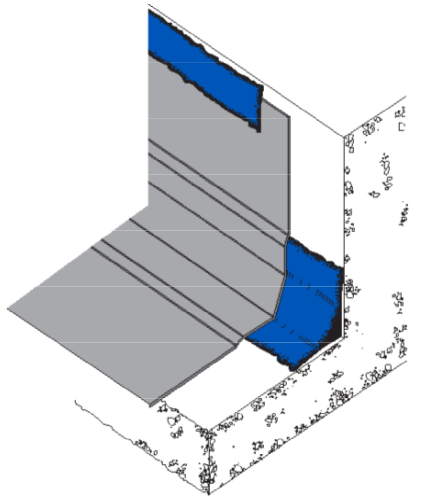 Installation
Substrate Preparation
Surfaces shall be dry and free from dust, dirt, grease or other contaminants. Ambient temperature shall be +5°C and rising. Bituthene Liquid Membrane should preferably be applied prior to the installation of Bituthene sheet waterproofing membranes. Bituthene Liquid Membrane may be used as a pointing surface sealer for Bituthene sheet membranes. A minimum overlap of the Bituthene sheet membrane of 50mm shall be provided. Bituthene Liquid Membrane is compatible with dry Bituthene Primer, B2 Primer and the Bituthene self-adhesive compound used on all Bituthene systems. Bituthene Liquid Membrane will adhere to clean, dry metal substrates.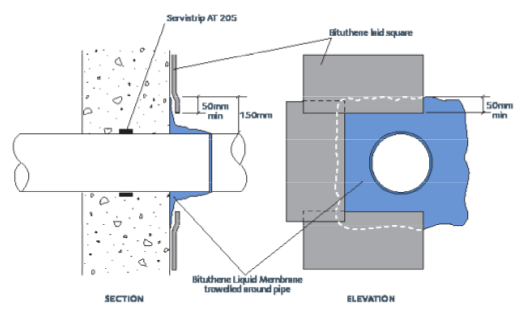 Mixing
Bituthene Liquid Membrane pack is supplied in a single can containing Part A base with the Part B reactor located separately under the can lid. Add Part B (clear) to Part A (black). Using a low speed mixer with Paddle MR2 (80mm dia.), blend the two parts for approximately 1 minute at 100rpm. Mix for a further 2-3 minutes at 200-300rpm until uniform blending is achieved. Scrape the sides and bottom of the container during mixing to ensure thorough blending. At temperatures below +10°C, store overnight at +20°C to improve blending and workability. Clean tools and equipment before Bituthene Liquid Membrane has cured with mineral spirits.
Application
Apply Bituthene Liquid Membrane with a trowel, solid barrel gun or hand held squeegee to achieve a minimum thickness of 1.5mm. Apply to a minimum thickness of 2.5mm when used as a detailing aid with Bituthene sheet membranes. Once mixed Bituthene Liquid Membrane must be applied within one hour at normal ambient temperatures. Material which has thickened must be discarded. Bituthene Liquid Membrane shall be allowed to cure for 24 hours before backfilling or flood testing.
Supply
| | |
| --- | --- |
| Bituthene LM | 5.7 litre pack (Parts A and B) |
| Bituthene LM and Deck Prep | 15.1 litre pack (Parts A and B) |
PRODUCT
APPROXIMATE COVERAGE
5.7 LITRE PACK
15.1 LITRE PACK
Deck Prep
1.5mm thick
2.5mm thick
3.2m2/pack
2.3m2/pack
8.4 m2/pack
6.0 m2/pack
LM
2.5mm thick x 300mm wide
7.6 lin m
20.1 lin m
LM
2.5mm thick x 2 x 150mm wide with 20mm fillet
6.0 lin m
15.9 lin m
LM
20mm Fillet
28.4 lin m
75.5 lin m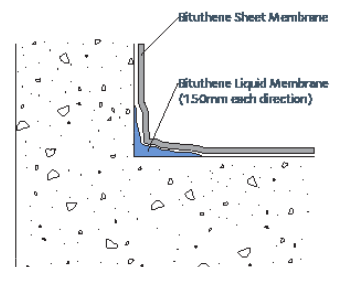 Specification
When used as a stand alone system, Bituthene LM and Deck Prep are mixed and applied in accordance with manufacturer's instructions to a minimum thickness requirement of 1.5mm. Where detailed with Bituthene sheet membranes, waterproofing integrity at penetrations, changes in direction, and substrate preparation shall be achieved with Bituthene LM and Deck Prep mixed and applied in accordance with the manufacturer's instructions. Bituthene Liquid Membranes are supplied by GCP Applied Technologies. For further information, contact your local GCP representative.
Technical Services
For assistance with working drawings for projects and additional technical advice, please contact GCP Applied Technologies.
Safety, Storage and Handling
Bituthene Liquid Membranes may be harmful. Special precautions are required when used in confined areas. Refer to product label and Material Safety Data Sheet before use.
th.gcpat.com | Thailand customer service: 66 2 030 9700
We hope the information here will be helpful. It is based on data and knowledge considered to be true and accurate, and is offered for consideration, investigation and verification by the user, but we do not warrant the results to be obtained. Please read all statements, recommendations, and suggestions in conjunction with our conditions of sale, which apply to all goods supplied by us. No statement, recommendation, or suggestion is intended for any use that would infringe any patent, copyright, or other third party right.
Bituthene is a trademark, which may be registered in the United States and/or other countries, of GCP Applied Technologies, Inc. This trademark list has been compiled using available published information as of the publication date and may not accurately reflect current trademark ownership or status.
© Copyright 2017 GCP Applied Technologies, Inc. All rights reserved.

GCP Applied Technologies Inc., 2325 Lakeview Parkway, Alpharetta, GA 30009, USA
GCP Applied Technologies Holdings (Thailand) Limited., 848 Moo 2, Bangpoo Industrial Estate (North), Phraksa Mai, Muang Samutprakarn, Samutprakarn 10280, Thailand
This document is only current as of the last updated date stated below and is valid only for use in Thailand. It is important that you always refer to the currently available information at the URL below to provide the most current product information at the time of use. Additional literature such as Contractor Manuals, Technical Bulletins, Detail Drawings and detailing recommendations and other relevant documents are also available on www.th.gcpat.com. Information found on other websites must not be relied upon, as they may not be up-to-date or applicable to the conditions in your location and we do not accept any responsibility for their content. If there are any conflicts or if you need more information, please contact GCP Customer Service.
Last Updated: 2022-10-11
https://th.gcpat.com/en-gb/solutions/products/bituthene-post-applied-waterproofing/bituthene-liquid-membrane-0