Product Description
One-part, high performance, polyurethane membrane. When combined with Silcor® Top Coat 80, provides a durable, UV-resistant, foot-trafficable waterproofing system for roofs, decks and plant rooms.
Features
Easy and low cost to install, maintain or refurbish
Quick access for trades
Waterproof — resists ponded water
Resistant to UV exposure and many alkalis, acids, oils and fuel
Single-pack — no mixing
UV colour-stable, non-slip and foot-trafficable with Silcor Top Coat 80
Low odour and non-stain
Forms a one-piece membrane barrier
Will not become brittle with age
Silcor 575 System provides a truly durable elastomeric membrane fully laminated to the substrate. It is engineered to allow application by "flood coating" using a squeegee, without multi-layering.
Silcor 575 System may be left exposed, painted, over coated or tiled as required. See surfacing data following.
Uses
Silcor 575 System is specifically designed for use as a non-slip, fully-exposed membrane on foot-trafficable areas, including:
Plant room floors
Balconies
Roof-decks
Sill or window flashings
Podiums •Bunds
Exposed pathway areas
The system can be applied to most surfaces.
Application
Priming
To inhibit pin-holes and seal dusty, porous surfaces use one coat of Silcor Primer BS at 8 -10m2 /kg and allow to dry. Use Silcor Primer BW F100 to seal any damp or "green" concrete. Roughen PVC or stainless steel before priming with Silcor Primer BW F100.
Application of Continuous Membrane
Silcor 575 Membrane is best applied in one application by squeegee. It can also be used by brush, roller or airless spray. Allow to dry fully between coats. Apply to a minimum total WFT (Wet Film Thickness) of 1.8mm to achieve the required minimum DFT of 1.5mm. Apply in one or two coats. Test WFT during application using a Wet Film Thickness Gauge.
Tanking
Cover with Bituthene® Protection Board or Hydroduct® Drainage Board, followed by backfill or landscaping.
Typical Properties
| PROPERTY | TYPICAL VALUE | TEST METHOD |
| --- | --- | --- |
| Colour | Grey | - |
| Specific Gravity | 1.4g / ml | - |
| Solids % Vol | 91 ± 3 | - |
| Cure Time - Ready for Flood Test, Tiling, Topping | 48 hours | - |
| Mix Ratio (w/w) | 1:1 | - |
| Tensile Strength | > 2.5MPa | ASTM D412 |
| Elongation | > 500% | ASTM D412 |
| Shore A Hardness | 75 ± 5 | ASTM D2240 |
| Chemical Resistance | Excellent | ASTM C543 |
Topcoat
Mix Silcor Top Coat 80 and apply in one or two coats by brush, roller or airless spray of a total rate of 0.3kg / m2 to give uniform finish with DFT 0.15mm. Grey and a limited colour range are available.
Project Specification
GCP Applied Technologies offers a comprehensive package of quality and proven systems to meet different project and application needs. Contact your local GCP representative for further information.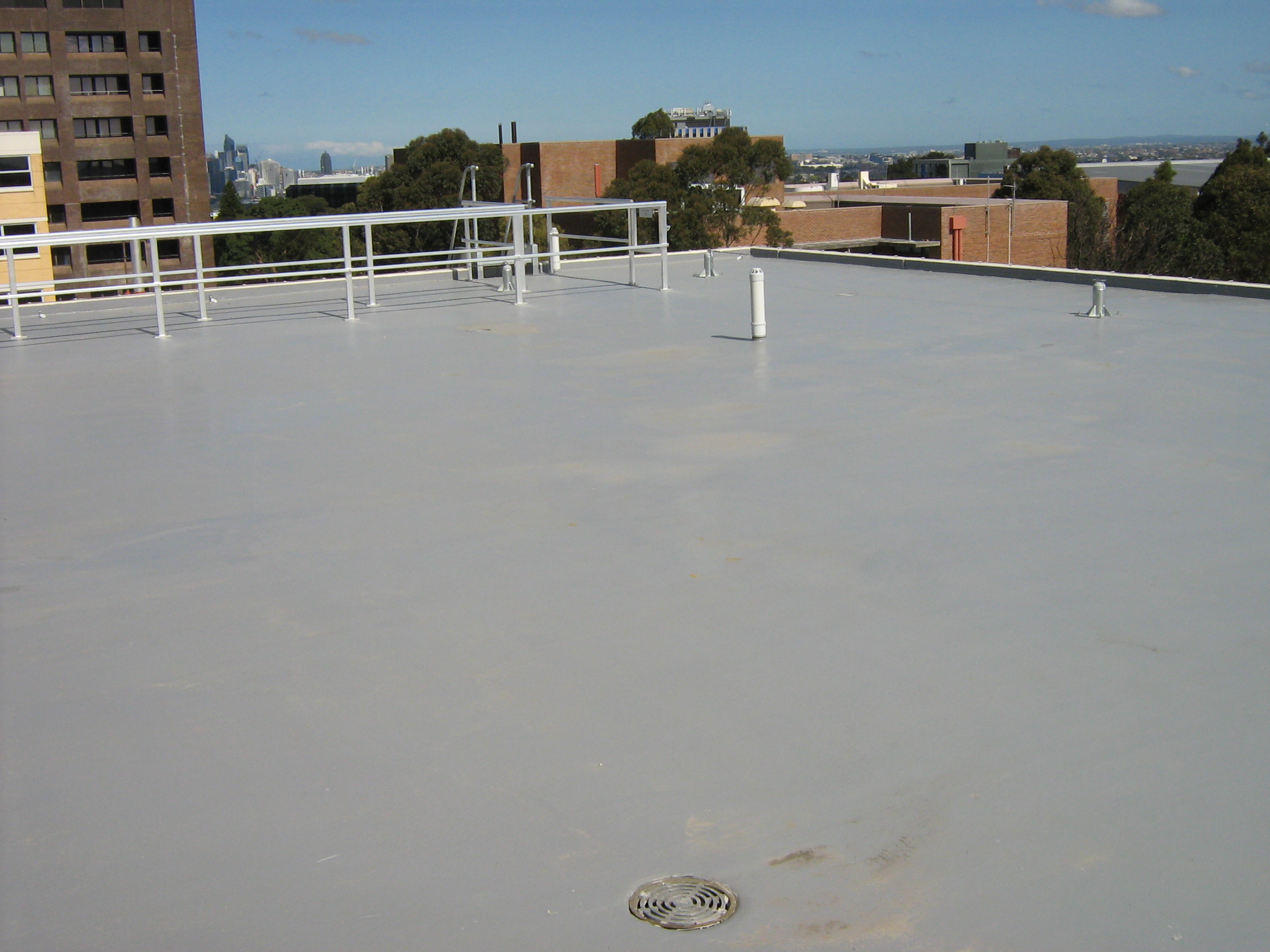 Preparation
Surfaces must be sound, smooth and free from dust, laitance, loose matter, oil or other contaminants. Concrete should be cured 28 days and render 7 days.
Repair surface defects with modified mortar.
Use Silcor LM PU sealant to fill joints, cracks, gaps and form angle fillets to internal corners or penetrations.
Bond Breaker
Install Silcor LM PU sealant as bond breaker. Allow all detailing work to skin cure before proceeding with general membrane installation.
Surfacing
Silcor 575 membrane may be subjected to foot-traffic after 12 hours. Following surfacing systems may be used over the fullycured Silcor 575 membrane layer without top coat:
Tiles
Lay ceramic tiles on mortar bed or apply sand layer before application of suitable adhesive.
Decorative Finishes
Use Silcor Primer BW F100 as sealer for premium quality exterior acrylic paints or texture coatings.
Other Rigid Surfaces
Use a 0.2mm thick polyethylene plastic slip-sheet under concrete toppings. Lay paving slabs supported on mortar bed.
Coverage
Silcor 575 Membrane: 2.1kg / m2.
Packaging
Silcor 575 Membrane: 22kg pails.
Clean Up
Use methylated spirits before curing. Exercise care with solvents and review Material Safety Data Sheet (MSDS).
Shelf Life
Do not store product exposed to weather and sun. When kept in a cool, dry, protected area, sealed pails have a 9 month shelf life at 25ºC, 60% RH, but once opened, may solidify within a few days.
Health and Safety
In case of spills and accidents, refer to the MSDS of the products or when in doubt contact your local GCP representative.
Always wear protective clothing, gloves and protective goggles when handling chemical products.
For full information, consult the relevant MSDS.
th.gcpat.com | Thailand customer service: 66 2 030 9700
We hope the information here will be helpful. It is based on data and knowledge considered to be true and accurate, and is offered for consideration, investigation and verification by the user, but we do not warrant the results to be obtained. Please read all statements, recommendations, and suggestions in conjunction with our conditions of sale, which apply to all goods supplied by us. No statement, recommendation, or suggestion is intended for any use that would infringe any patent, copyright, or other third party right.
Silcor, Bituthene and Hydroduct are trademarks, which may be registered in the United States and/or other countries, of GCP Applied Technologies, Inc. This trademark list has been compiled using available published information as of the publication date and may not accurately reflect current trademark ownership or status.
© Copyright 2017 GCP Applied Technologies, Inc. All rights reserved.
GCP Applied Technologies Inc., 62 Whittemore Avenue, Cambridge, MA 02140, USA.
GCP Applied Technologies Holdings (Thailand) Limited, 848 Moo 2 Bangpoo Industrial-Estate (North), Phraksa Mai, Muang, 10280 SAMUTPRAKARN, Bangkok.
This document is only current as of the last updated date stated below and is valid only for use in Thailand. It is important that you always refer to the currently available information at the URL below to provide the most current product information at the time of use. Additional literature such as Contractor Manuals, Technical Bulletins, Detail Drawings and detailing recommendations and other relevant documents are also available on www.th.gcpat.com. Information found on other websites must not be relied upon, as they may not be up-to-date or applicable to the conditions in your location and we do not accept any responsibility for their content. If there are any conflicts or if you need more information, please contact GCP Customer Service.
Last Updated: 2020-03-06
https://th.gcpat.com/en-gb/solutions/products/silcor-liquid-waterproofing/silcor-575